Personality disorders and violence: what is the link?
Borderline Personality Disorder and Emotion Dysregulation
2015
2:12
Received: 26 June 2015
Accepted: 7 September 2015
Published: 17 September 2015
Abstract
Despite a well-documented association between personality disorders (PDs) and violence, the relationship between them is complicated by the high comorbidity of mental disorders, the heterogeneity of violence (particularly in regard to its motivation), and differing views regarding the way PDs are conceptualised and measured. In particular, it remains unclear whether there is a causal relationship between PDs and violence, and what the psychological mechanisms might be that mediate such a relationship. Here, a perspective on PD and violence is offered that views the relationship between them through the lenses of the Five Factor Model of personality and a quadripartite typology of violence. Evidence is reviewed suggesting that emotion dysregulation/impulsiveness, psychopathy, and delusional ideation conjointly contribute to the increased risk of violence shown by people with PD, and do so by contributing to a broad severity dimension of personality dysfunction. This view is consistent with the abandonment of personality disorder categories in the forthcoming eleventh edition of the International Classification of Diseases (ICD-11), where severity of personality disorder is defined in terms of the degree of harm to self and others.
Keywords
Violence
Personality disorder
Psychopathy
Impulsiveness
Emotion dysregulation
Delusions
Review: personality disorder and violence
Conclusions
Viewing the PD/violence relationship through the lenses of the FFM on the one hand, and of QVT on the other hand, permits a new perspective on the relationship between PD and violence. This perspective suggests that a higher-order Externalizing dimension, subsuming both emotional impulsiveness and "psychopathy" in its various guises, together with Thought Disorder, can account for the relationship between PD and violence: see Fig.
2
. In general, the higher the prevalence of traits associated with
both
Thought Disorder
and
Externalizing, the greater would be the severity of PD and hence the greater the propensity for violence. Note that the relationship between Internalizing and Externalizing is shown as bidirectional in Fig.
2
, since internalising and externalising tendencies are known to co-occur in adolescents and that this co-occurrence was found to be mediated by rumination in adolescent males [
73
]. Nonetheless, different combinations of traits related to Thought Disorder and Externalizing would likely be associated with different manifestations of violence, specifically with differences in the four different types of violence proposed by QVT: thrill-seeking (motivated by a desire for excitement), threat-related (motivated by a desire to remove a perceived interpersonal threat), revenge-related (motivated by a desire for vengeance), and greed-related (motivated by a desire for material goods or social dominance). Although empirical verification is currently lacking, It would be expected, for example, that those showing high levels of Externalising traits, resulting in symptomatology characterised by irresponsibility, manipulation, wilfulness and both cognitive and behavioural dysregulation [
17
], would be biased towards showing appetitive (thrill-seeking and greed-related) forms of violence (Fig.
2
). Thrill- seeking violence should be more prominently seen in those scoring high on the excitement seeking facet of Extraversion and low on facets of Agreeableness. Those showing high levels of disordered thinking, on the other hand, would be biased towards showing aversively motivated (threat-related and revenge-related) forms of violence, as shown in Fig.
2
. The co-occurrence of traits related to both Externalizing and Thought Disorder seen in patients with borderline/antisocial PD comorbidity, particularly in female patients with this comorbidity, constitutes a particularly toxic concatenation of traits that would be expected to be associated with a high risk of severe violence that is both appetitively (e.g., thrill-seeking) and aversively (e.g., threat-related) motivated.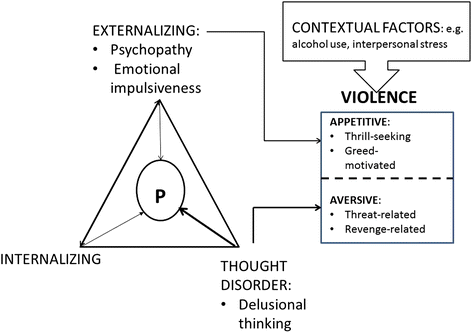 It is perhaps appropriate that the forthcoming edition of the International Classification of Diseases (ICD-11) will abandon the previous personality disorder typology (apart from the presence of personality disorder itself, which is largely defined as a dysfunction of interpersonal behaviour), in favour of a classification according to level of severity [26]. Here severity is defined by the degree of harm to self and others, ranging from mild ("not associated with substantial harm to self or others") to severe ("associated with a past history and future expectation of severe harm to self or others that has caused long-term damage or has endangered life" ([26], p. 722). Now that personality disorder will no longer be defined by questionable types, but by the degree of harm done, maybe the focus of research can switch to a closer examination of the various motivations underlying violence associated with different permutations of dysfunctional trait domains, listed in ICD-11 under the headings Negative Affect, Dissocial, Disinhibition, Anankastic and Detachment. It is hoped that the quadripartite typology outlined in Fig. 1 will help in this respect, although other typologies exist and should also be considered [74].
Declarations
Acknowledgements
I am indebted to colleagues in Nottingham with whom I have collaborated and who have stimulated my thinking over the last 10 years, in particular Drs Najat Khalifa and Nick Huband, Professors Conor Duggan, Kevin Howells and Mary McMurran.
Open AccessThis article is distributed under the terms of the Creative Commons Attribution 4.0 International License (http://creativecommons.org/licenses/by/4.0/), which permits unrestricted use, distribution, and reproduction in any medium, provided you give appropriate credit to the original author(s) and the source, provide a link to the Creative Commons license, and indicate if changes were made. The Creative Commons Public Domain Dedication waiver (http://creativecommons.org/publicdomain/zero/1.0/) applies to the data made available in this article, unless otherwise stated.
Authors' Affiliations
(1)
Institute of Mental Health, University of Nottingham Innovation Park, Jubilee Campus, Nottingham, UK